the trip was AMAZING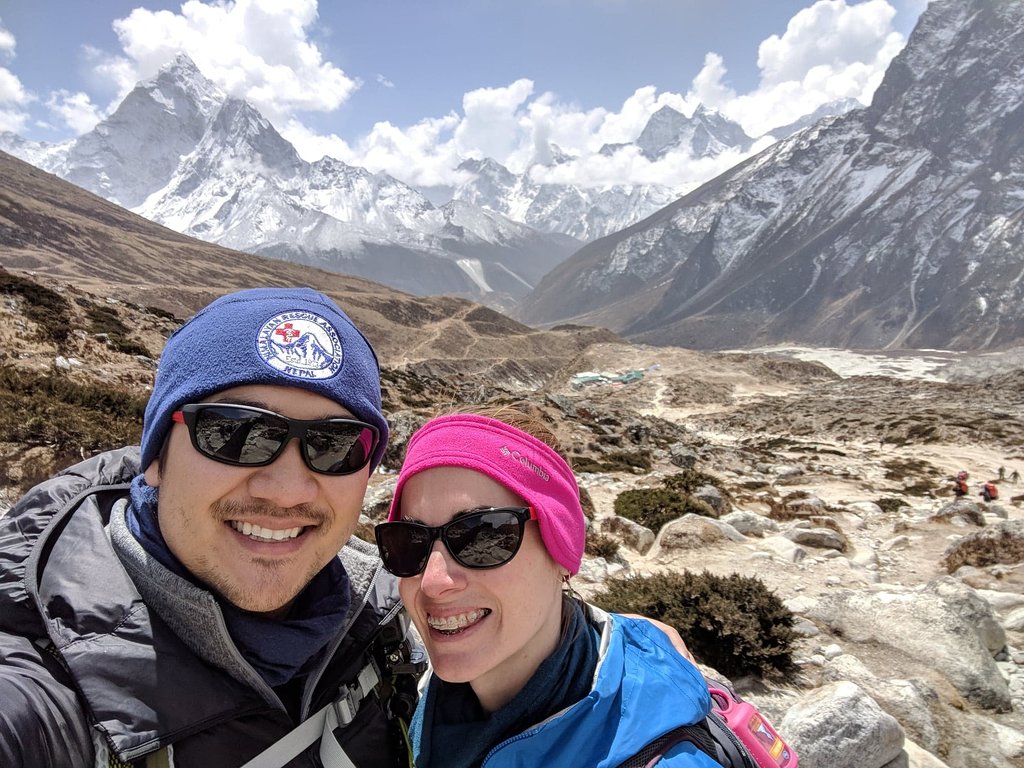 We originally chose Amigo due to their super fast response rate as well as having the trip that we wanted. Since this was my bucket list trip, we decided to book the luxury trip, which included a helicopter ride down, 5* hotels where possible, and best available tea houses once you got higher up on the trek (and there are no more hotels/lodges). I went with my boyfriend (now fiance!), and we are SO glad we splurged a little as being as comfortable and we'll rested as possible really helps when trying to accomplish your goal of reaching Base Camp /Top of Kala Patthar.

Niti was our sales rep, and as stated above she was incredibly fast and flexible with our scheduling. Our flight to Kathmandu was cancelled THREE times (thanks, FlyDubai! Haha
..) and she was quick to update our travel plans each time. Our tour guide, Raaj, was attentive the entire trip and did his best to ensure we were as comfortable as possible considering how freezing cold it would get at night! We also loved our Porter, as I have NO idea how he carried our extra clothes/supplies with absolutely no complaint when everyone else is huffing and puffing. I appreciated that Raaj and our Porter were non-smokers, as we saw many of the guides and support staff smoking while trekking.

For the actual trek, it's definitely tough due to the cold temperatures (we started at the end of March), inevitable diarrhea you will experience no matter how much hand sanitizer you'll use, and the lengthy amount of time walking spread out 9 days uphill. My fiance (Brandon) had not gone on any practice hikes prior to this trip but is in relatively good shape. I do go hiking, but really the big determining factor in being successful is whether or not you're prone to altitude sickness. I am fortunate to not have any altitude sickness, but Brandon had pretty severe headaches, flu like symptoms, lack of appetite, and extreme fatigue. Raaj monitored his condition and gave extra rest periods so Brandon could acclimate easier.

Overall, the trip was AMAZING and my biggest advice for people who want to go there is to book with an attentive company. We saw 40% of people turn around before reaching their goal, but most of them were in large groups and staying at the worst accommodations. You don't appreciate having a hot shower until you realize that hardly anyone else you are seeing hiking has that same luxury. Our guide also gave us rolls of toilet paper when we underestimated how much we'd need, made fresh fruit platters for us 1-2 times a day, bought all of our mineral water at each stop, took care of all of our food/housing/beverages, and even got us welcome/farewell gifts that we will cherish :) Brandon also proposed to me on the helicopter ride back to Kathmandu after we had finished our trek, and due to Raaj filming it, I was able to share it with my family! We really appreciated having a guide who treated us like a friend and we were very sad to say bye to him, Niti, and our Porter.
mia
UNITED STATES
Ultimate Luxury Everest Base Camp Trek