Annapurna Base Camp Trek Guide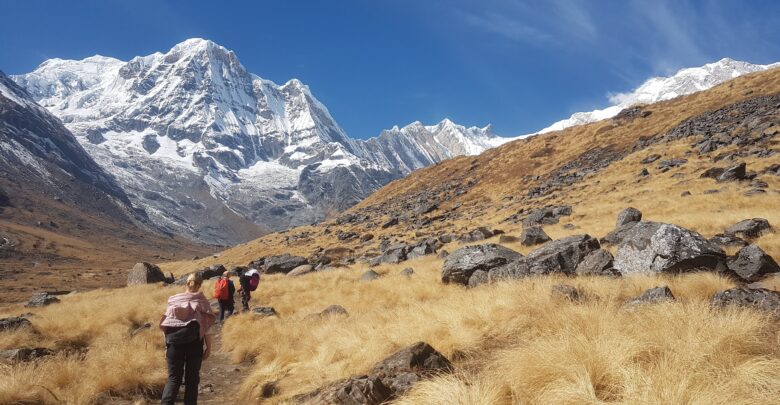 Everything You Need To Know About the Annapurna Base Camp Trek in Nepal
55 kilometers long, the Annapurna Conservation Area stretches from north-central to south-central Nepal. This conservation area shields the massif of wild hills.
Experience the beauty and culture that Annapurna Conservation Area has on offer by visiting it while you're in Nepal!
Trekking to Annapurna base camp, also known as the Annapurna Sanctuary Trek, allows trekkers to experience the most spectacular section of this massif, including views of the world's tenth-highest mountain, Annapurna I.
Located north of the beautiful lake city, Pokhara, east of Poon Hill and Ghorepani, and west of Mardi Himal; the Annapurna Base Camp is one of the most popular trekking destinations in Nepal. Every year two-thirds of all trekkers in Nepal visit the Annapurna region.
Some facts related to the Annapurna Base Camp Trek
Annapurna Base Camp trekking is trekking to the base camp of the Annapurna South.
Annapurna Base Camp trekking presents trekkers with a chance to view the 10th highest mountain in the world, the Annapurna I.
The Annapurna Base Camp presents the 3600 panoramas of stunning mountains in the Annapurna region that include, Machhapuchhre (6993m), Annapurna III (7555M), Gangapurna (7454m), Singu Chuli (6501m), Annapurna I (8091m), Annapurna South (7219m) and Hiunchuli (6441m).
During the Annapurna Base Camp Trek, trekkers can enjoy two base camps – a) Annapurna Base Camp and b) Machhapuchhre Base Camp.
Trekkers can either directly go to the Annapurna Base Camp or take a detour to Ghorepani- Poon Hill or Ghandrunk or both. Nevertheless, all these trails coincide at Chhomrong and further lead to the base camp.
If trekkers choose to take a detour to Ghorepani-Poon Hill, then trekkers can enjoy the second most famous viewpoint after Kala Patthar in the Khumbu region, Poon Hill.
The view of Machhapuchhre (6993M), Hiunchuli (6441m), Annapurna South (7219m), Baraha Sikhar (FANG) (7647M), Nilgiri South (6839M), Tukuche (6920m) and Dhaulagiri (8167m) are magnificent.
The entire area is inhabited by people, which offers a great opportunity for trekkers to enjoy unique teahouse trekking.
During the trekking season, the trail gets very crowded, therefore, this trail is not recommended for trekkers seeking solitude.



Highlights of the Annapurna Base Camp Trekking
The very famous Lake City in Nepal, Pokhara, serves as the starting point of the trek.
Incredibly diverse scenery, including both, high mountain and lowland villages.
Exposure to the unique settlement, lifestyle, culture, tradition, and hospitality of Gurung, Magar, and Thakali people.
Because the entire area is populated, there are guest houses, tea houses, and homestays available from beginning to end.
Beautiful sunrise and sunset view and Annapurna range, Dhaulagiri, and Machhapuchhre from Poon Hill, the second most famous viewpoint in Nepal after Kala Patthar in the Khumbu region.
Subtropical and alpine climates, vegetation, animals, and birds.
Famous Gurung, Magar, and Thakali villages like Ulleri, Ghorepani, and Ghandruk.
Homestay and Gurung museum in Ghandruk.
Hot Spring in Jhinu Danda is a perfect tub to relax your tired muscles after the trek.
A perfect blend of scenery and amazing landscape.
The world is a book, and those who do not travel read only the page. – Saint Augustine.
Permits and Costs required for Annapurna Base Camp Trek
Due to the location of the Annapurna Base Camp within the Annapurna Conservation Area, trekkers must obtain an individual ACAP entry permit.
Trekkers can apply for the permit with two passport-size photographs. The permit fee for SAARC Nationals is NPR 1000/- (Two Hundred only), while for nationals other than SAARC countries is NPR 3,000/- (Three Thousand only).
However, children under the age of 10 do not require any entry fee. This permit is valid for single entry only and must be carried during the entire trip and shown to the concerned person at check posts, upon request.
This permit is non-transferable and non-refundable. Also, this permit only allows trekkers to enter the designated places within the conservation area.
Trekkers must also obtain a Trekkers' Information Management System (TIMS) card to hike to Annapurna Base Camp. Both Free Individual Trekkers (FITs) and those working for government-approved agencies should get TIMS cards.
Trekkers need a copy of their passport and two passport-sized photos and Nepali currency equivalent to NPR 2000/per person
TIMS card can be obtained at the offices of Nepal Tourism Board in Kathmandu and Pokhara and TAAN Secretariat at Maligaon and TAAN Pokhara Secretariat in Pokhara.
The cost of the standard Annapurna Base Camp Trekking packages by Amigo Treks and Expedition also includes the cost of all permits required during the Annapurna Base Camp Treks.
Routes that lead to the Annapurna Base Camp
Starting Pokhara, the standard route, that is, via Ghorepani Poon-Hill requires 11 days to reach the Annapurna Basecamp and come back to Pokhara.
The trail starting Nayapul passes through Birethanti, Ramghai, Sudame, Hille, Tikhedhunga, Ulleri, Banthanti, Ghorepani, Tadapani, Sinuwa, Deurali, and Annapurna Base Camp.
While returning from the Annapurna Base Camp, trekkers will follow the same route down to Chhomrong and then continue to Bamboo, Jinu Danda, and Pothana, where the ABC trek normally ends.
Nevertheless, there is good news for travelers, who cannot spend 11 days getting to the ABC. Most of the companies offer Short Trek to Annapurna Base Camp packages, which allow trekkers to complete the ABC trek in just 11 days.
However, trekkers always have the option of a detour, if they have time and are looking to explore more.
Food and Water during the Annapurna Base Camp Trek
Proper food and water intake is a very essential part of any trekking. Since the Annapurna Base Camp route is entirely inhabited by people, eatery options are more along the trail, compared to the other trekking routes in Nepal. Therefore, the meals served during the trek will be as per the tea house menu.
The standard packages offered by agencies usually include three major meals (breakfast, lunch, dinner) and tea and coffee.
Breakfast: Oatmeal boiled in water, French toast served with jam, honey, or butter, eggs cooked in your preferred style, pancakes, Muesli, or Chapati are available options for breakfast.
Lunch: Usually, traditional Nepali food (Lentil soup, rice, curry, pickle, and meat cooked in Nepali style) is provided for lunch.
The food served is organic, fresh, made using local ingredients, and very tasty. However, if you are looking for some western food, you can always choose the one provided on the tea house menu.
Dinner: Both traditional and Western food is available for dinner. You can order as per the tea house menu.
Water: You can buy bottled water from the starting point of the trek till the end. But the prices increase, with the increment in altitude. Therefore, using water filters is wiser than buying bottled ones as it reduces your budget as well as the waste on the trek.
Food items such as protein bars, cheese, nuts, chocolates, and other snacks should always be packed. These can be consumed while walking and provide additional calories.
Accommodation during the Annapurna Base Camp Trek
Guesthouses, basic lodges, and tea houses are the available accommodation options during the Annapurna Base Camp Trek. The rooms are very basic with one or two beds and very little or no additional furniture at all.
Some accommodations provide attached bathrooms; however, most offers shared baths and restrooms. Some provide hot shower facilities, however, in the absence of a hot shower facility, trekkers can always ask for a bucket of hot water (extra charge applicable).
The rooms, although very basic, are very comfortable. AC or heater facilities are not available, therefore, it is recommended to bring your sleeping bag.
Moreover, if you are looking to enjoy the local lifestyle and settlement of people, then ask your company to book some of your accommodations on Homestays. This allows you to enjoy the local food, culture, tradition, and lifestyle of local people by spending time with them.
Transportation during the Annapurna Base Camp Trek
Nayapul is the starting point of most of the Annapurna Base Camp Trek. Local transportation (bus) is available from Pokhara to get to Nayapul or you can choose a private vehicle.
It takes about 2 hours to reach Nayapul from Pokhara. However, if you are starting your trip from Kathmandu, you can either drive or fly to Pokhara. If you take a tourist bus from Kathmandu, it takes about 7 hours to reach Pokhara.
However, if you wish to take a flight it will only take about 20-25 mins to reach Pokhara. You can also hire a private jeep or a car to get to Nayapul from Pokhara if you are willing to pay a little extra.
Annapurna Base Camp Difficulty Level
Typically taking 7-12 days to complete, the Annapurna Base Camp trek is generally considered to be of moderate to challenging difficulty. Hikers can expect to trek for 6-7 hours daily, including some steep and strenuous sections, through stunning landscapes like forests, terraced fields, and villages. To successfully complete this trek, one must be in good physical condition, possess a good level of endurance, and properly acclimatize to the high altitudes.
At 4130 meters (13550 feet), the base camp itself is the highest point on the trek. Along the way, travelers will have the opportunity to learn about the culture and way of life of the local Gurung people. Adequate acclimatization is crucial when undertaking this trek, as the high altitudes require a gradual ascent to allow the body to adjust to the lower levels of oxygen. To mitigate any altitude sicknesses symptoms like headaches, dizziness, and shortness of breath, staying well-hydrated is also key.
How do I get ready for the trek?
First and foremost, prepare your body for the journey.
Be aware of your present fitness level and consult with your doctor or a local General Practitioner about the necessary guide walks before trekking.
Start exercising at least 4-6 weeks before the trek. Focus on cardio exercises like cycling, jogging, running, swimming, or uphill/stair climbing by carrying a backpack and muscle-strengthening exercises like push-ups, pull-ups, weight lifting, and squats.
Next, get your luggage ready. Your checklist should include the following things:
Travel documents: passport, visa, travel insurance, air tickets, voucher, passport-sized photos
Binoculars, alarm clock, torch/flashlight/headlamps, ear plug, and eye mask,
Reading and writing materials, travel games like, chess, backgammon, scrabble,
Hand sanitizer, lip balm, face and body moisturizer, lightweight towel, toiletries like toothbrush, toothpaste, multipurpose soap, deodorant, nail clippers, sanitary pads
Money-cash and money bag,
Sleeping bag
Day pack (with waist straps), refillable water bottle
Sun hat, sunglasses, scarf
Bag liner,
Sewing kit, swiss army knife, lighter, a small padlock
Wind and waterproof shell jacket and trousers
Comfortable walking shoes, running shoes, and sandals
Socks: thick wool blend and thin cotton to be worn in combination
Lightweight thermal gloves
T-shirts
Underwear and shorts
Long sleeved shirt
Trekking/Hiking boots with spare laces
Lightweight long trousers
First Aid Kit
Regular medicines
Nevertheless, if you are planning the Annapurna Base Camp trekking, during the winter season, your pack list should be special. Do not forget to include the following things in the list.
Layered clothing/thermals
1 heavyweight or 2 lightweight wool jumpers/sweater/fleece jacket
Fleece wind-stopper jacket
Down jacket or down vest
Fleece or wool trousers
Heavyweight gloves or mittens
A four-season sleeping bag
Thick, warm wool hiking socks
Gaiters (optional)
Best season to plan the Annapurna Base Camp Trek
Spring (March to May) and Autumn (September to Mid-December) are the best seasons to plan the Annapurna Base Camp Trek. These seasons are very supportive in terms of the trail, visibility, and weather condition.
During the monsoon season, the trail becomes quite slick.
the views are obstructed by clouds and rain and during the winter season, it's very cold due to snowfall.

What policies should my travel insurance cover?
Your travel insurance should cover all the extra expenditures that might come into account due to various health issues, injuries, or accidents.
The cost of the ambulance, helicopter rescue, hospital charges, cost of medical treatment, medicine, doctor's fee, and repatriation cost.
Your travel insurance should also include all the other extra activities (not mentioned in the package).
that you are looking to undertake while you are in Nepal and also the cost of theft and liability cancellation and misplaced luggage.
What happens if I get sick or injured during the Annapurna Base Camp trekking?
If you become ill or are injured while trekking, our team leader will provide First Aid and transport you to the nearest health post for further services.
However, if the situation is beyond Guide's control, an emergency rescue (helicopter rescue) will be organized.
If you are looking for a hassle-free trekking experience, it is always good to take help from government-authorized trekking agencies in Nepal.
These trekking agencies are in good contact with service providers in various trekking regions of the country, which makes it easier for them to book services for you.
These trekking agencies will understand your requirements and budget and customize the package accordingly. Make sure to choose the one that best company. Plan your Annapurna Base Camp Trekking Adventure with Amigo Treks and Expedition for a better experience.