Amigo treks is a 5 star company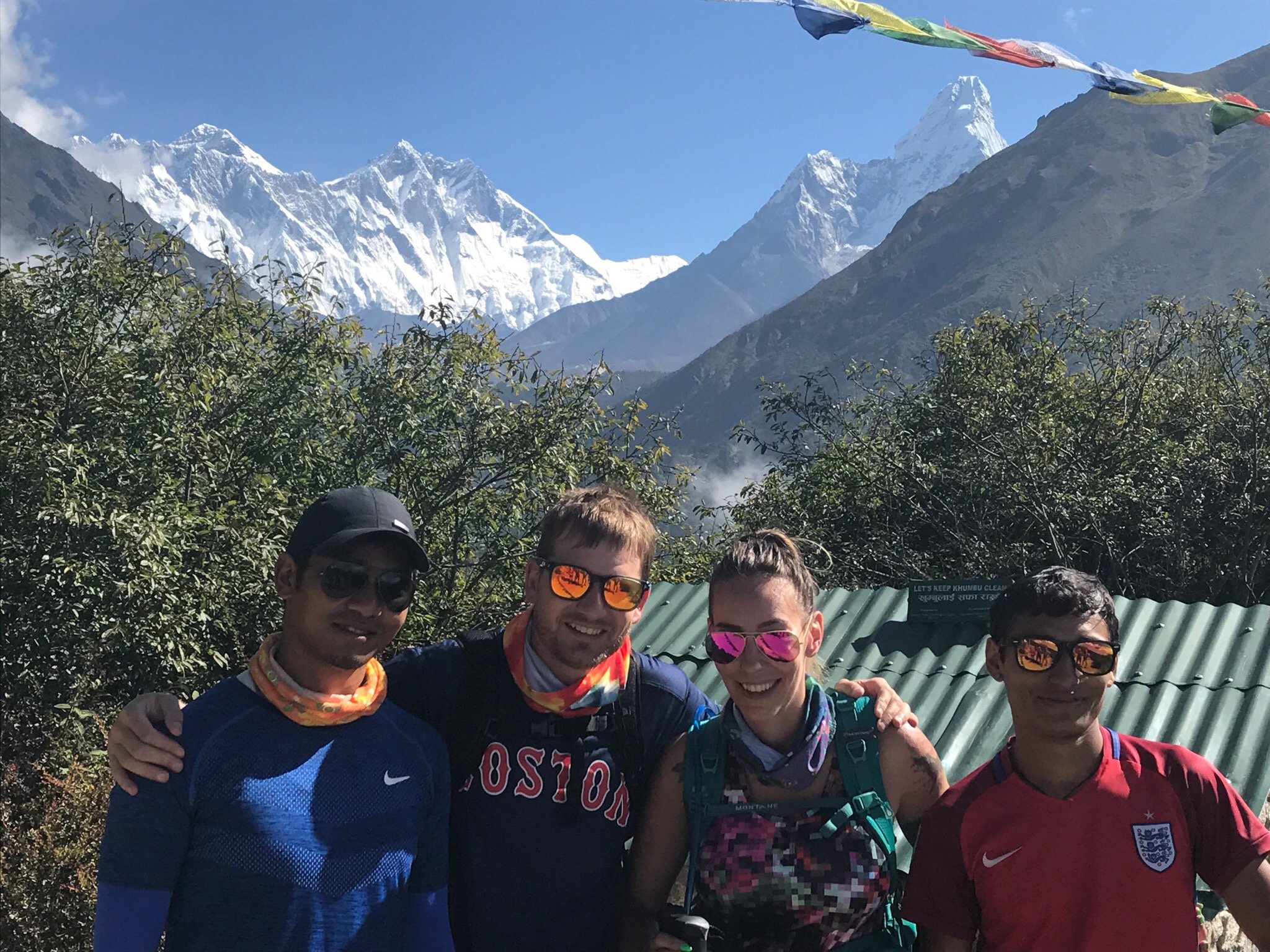 My husband and I just got back from our Everest base camp trek with Amigo treks and it was amazing!!! I seriously can't say enough good things about Amigo Treks, Thank god we found such an amazing and creditable company, and the owner Tika really made sure we had everything we needed and were well prepared. He was so friendly and patient and sat down with us before we started the trek and made sure all our questions were answered and that we knew exactly what was going to be on our itinerary. Once we started the trek we were in a group with 3 other people(5 of us total) and it turned out to be an experience of a life time.
A day before the trek started we got sent on a tour of Kathmandu to learn about the culture and see some beautiful temples. Our guide for the city tour was Kiran and he really knew everything there was about the culture. He brought us to a monkey temple which was my favorite part because I love animals. There were thousands of monkeys all over the place and basically I was in heaven. Then he brought us to see the Kumari who is a living goddess and that was pretty cool. He explained the importance of her to us in their culture and it was pretty amazing we got to see that. Then he took us to a delicious traditional Nepalese lunch at a beautiful roof top restaurant and then ended the tour by taking us to a Nepalese cremation ceremony. It was amazing to see something like that and experience how other cultures deal with death. The city tour was really a great start to our trek and I think it's very important to learn about the cultures of new places once you are there visiting. Amigo treks does a fantastic job of this and I think it's one of the reasons they are a great company.
Now on to the trek.....
Our guide for the trip was Nava, and after spending all this time with him my husband and I consider him a part of our family.
Nava told us this was our trek, not to feel rushed, and to go at our own pace. Nava has been a trek guide for quite some time now and knows the entire route like the back of his hand. He told us exactly what to expect, how long we would be going day by day, and kept us healthy and alive. Our safety was his first priority and it really showed. Nava has such a wonderful personality and really cares about his work and the groups of people he takes out. After spending just a few days with him you can tell he's really a great guy and cares about what he's doing. I still can't believe how lucky we got. During the trek Nava was mentoring Dipak on becoming a trekking guide. Dipak was the lead porter, which is one of the people who carry your bags up the mountain so you don't have to. Some companies use yaks to do this but Amigo treks uses porters which actually gives jobs to the local people which I think is a great thing. Dipak was also a great guy and I'm impressed he was able to carry so much weight on his back every day. We had two other porters as well, Dewan and Sunil who were two younger guys who carried EVERYTHING for us. If it wasn't for Nava and the porters this trek wouldn't of been possible. We literally owe the success of our trip to Nava I can't thank him enough. Nava made sure we stuck to our schedule, we stayed on time, we stayed safe, and most importantly enjoyed the entire trek.
Amigo treks is a 5 star company and all it's employees are genuinely amazing people. Thank you!!!
rachelfandel
UNITED STATES
Everest Base Camp Trek