Everest Base Camp Trek Packing List
If you are planning on a trek to the Everest Base Camp, you should know what you need to pack with you. And more importantly, what not to pack! The trek to the base of the highest mountain range in the entire world can be a little if not, highly challenging.
There is a necessity to prepare yourself to face extreme altitudes and climatic conditions. And thus, for your safety and the environment, we have arranged a guide to reveal the tips and tricks on how to pack for your Everest Base Camp Trekking Adventure.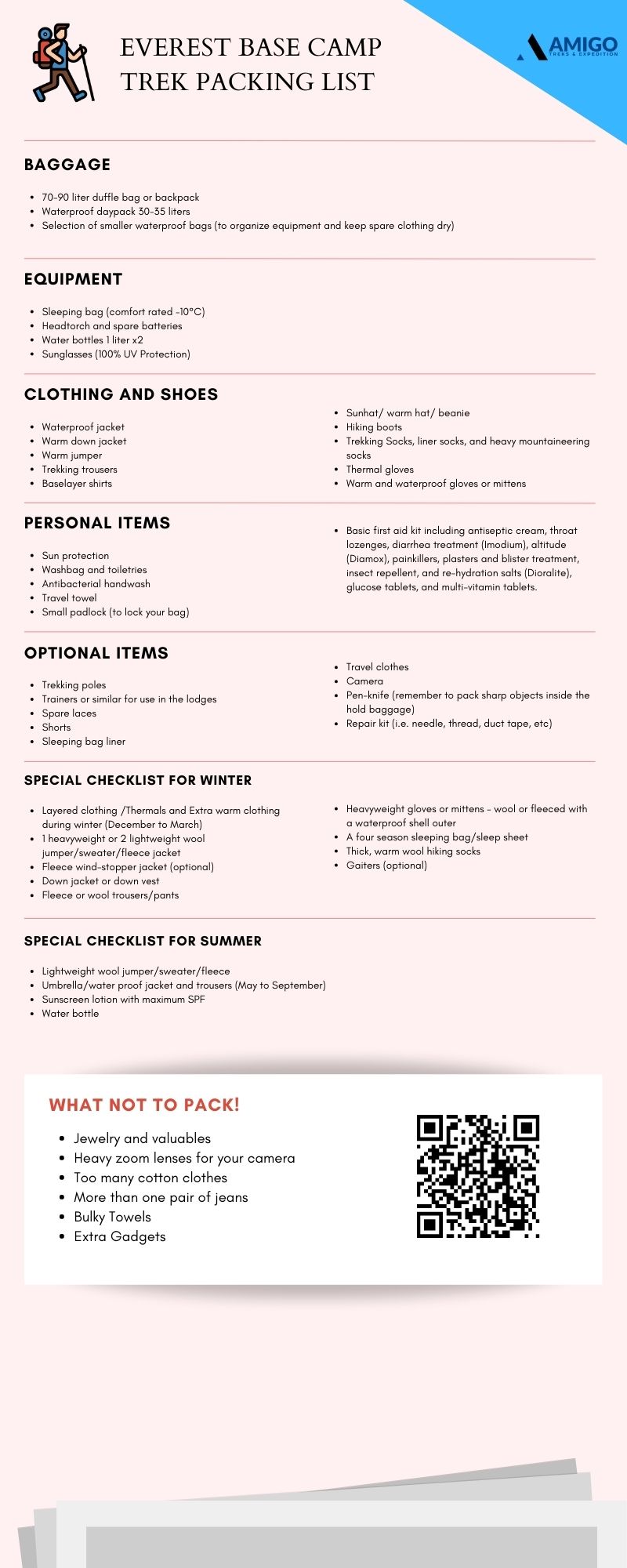 Amigo Treks and Expeditions has gained experience and expertise in the field of travel and tours for many years. We have accumulated significant tricks that need to be followed. This includes the guide to pack accordingly for your trek. Though it might not seem as important at first glance, packing can make or break your trekking experience.

Therefore, for your convenience, here is a list of things you must pack for your trek to Everest Base Camp. Also, note that you can hire the following items as well.
Everest Base Camp Trek Packing List
Baggage
70-90 liter duffle bag or backpack
Waterproof daypack 30-35 liters
Selection of smaller waterproof bags (to organize equipment and keep spare clothing dry)
Equipment
Sleeping bag (comfort rated -10°C)
Headtorch and spare batteries
Water bottles 1 liter x2
Sunglasses (100% UV Protection)
Clothing and Shoes
Waterproof jacket
Warm down jacket
Warm jumper
Trekking trousers
Baselayer shirts
Sunhat/ warm hat/ beanie
Hiking boots
Trekking Socks, liner socks, and heavy mountaineering socks
Thermal gloves
Warm and waterproof gloves or mittens
Personal Items
Sun protection
Washbag and toiletries
Antibacterial handwash
Travel towel
Small padlock (to lock your bag)
Basic first aid kit including antiseptic cream, throat lozenges, diarrhea treatment (Imodium), altitude (Diamox), painkillers, plasters and blister treatment, insect repellent, and re-hydration salts (Dioralite), glucose tablets, and multi-vitamin tablets.
Optional Items
Trekking poles
Trainers or similar for use in the lodges
Spare laces
Shorts
Sleeping bag liner
Travel clothes
Camera
Pen-knife (remember to pack sharp objects inside the hold baggage)
Repair kit (i.e. needle, thread, duct tape, etc)
Special Checklist for winter
Layered clothing /Thermals and Extra warm clothing during winter (December to March)
1 heavyweight or 2 lightweight wool jumpers/sweaters/fleece jacket
Fleece wind-stopper jacket (optional)
Down jacket or down vest
Fleece or wool trousers/pants
Heavyweight gloves or mittens – wool or fleece with a waterproof shell outer
A four-season sleeping bag/sleep sheet
Thick, warm wool hiking socks
Gaiters (optional)
Special Checklist for Summer
Lightweight wool jumper/sweater/fleece
Umbrella/waterproof jacket and trousers (May to September)
Sunscreen lotion with maximum SPF
Water bottle
What NOT to pack!
Jewelry and valuables
Heavy zoom lenses for your camera
Too many cotton clothes
More than one pair of jeans
Bulky Towels
Extra Gadgets
Now that you are familiar with what to include, and exclude while packing for your Everest Base Camp Trek, make sure to check what you should expect when traveling to Nepal.