Everest Base Camp Trek in February: Weather, Routes, Pack List, Travel Tips, and More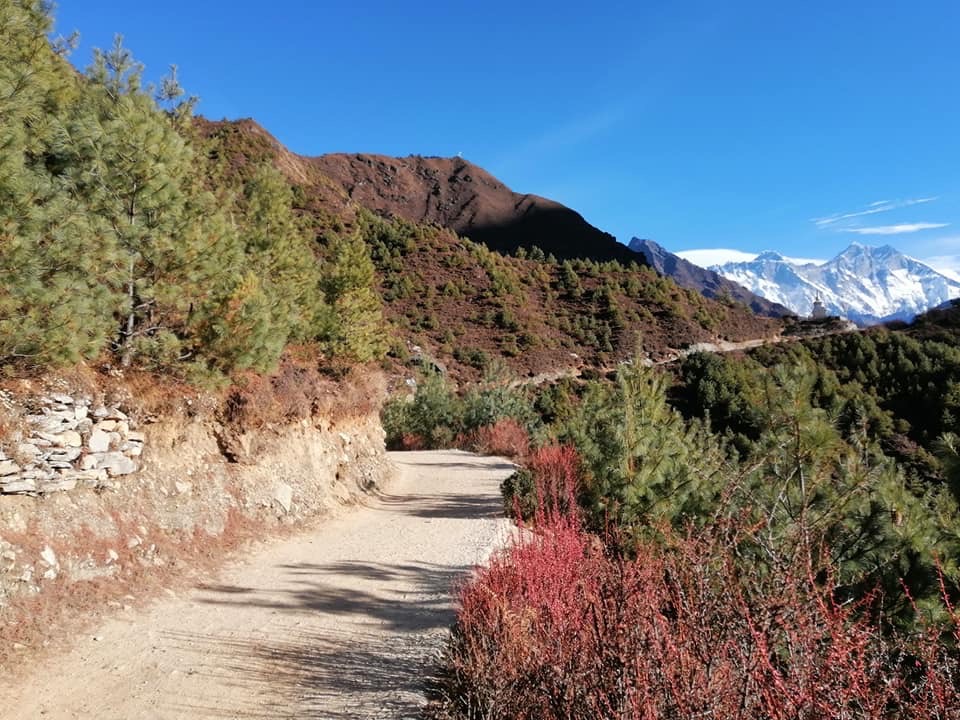 The Everest Base Camp Trek in February. The month of late winter comes with warmer rays of sunlight than in January. Of course, it is not the warmest month for trekking, but, it is rewarding for those who can withstand a little bit of cold.
So, read further, and we will reveal to you the tips and tricks of trekking in February.
Weather
In February, the Everest region gets notably warm during the day. But, considering that it is still winter, the nights are yet a bit frosty.
The temperature at the Everest Base Camp averages around -16°C in February.
However, you don't have to worry about the intense wind conditions.
Even though you will be trekking at a considerably great altitude, the severe winds don't affect the Everest Base Camp region as much as it affects the trekkers reaching for the summit.
Another factor that might affect your trekking in February is the considerable temperature fluctuation between night and day. The minimum of which centers too -12°C, and the maximum temperature averages to 6°C.
Nevertheless, don't worry. By packing insulated clothing and a good-quality sleeping bag, you will be all set to take on the Everest Base Camp Trek in February.
Moreover, you will get 6-7 hours of daylight in February in the Everest region. During this time frame, you will be able to trek with comfort as the temperature increases considerably after sunrise.
Still, keep in mind that the weather is unpredictable in the Everest region. Sudden wind chills and blizzards might trouble you. Though, there is only a slight chance of snowfall as February is one of the dry months.
Why the Everest Base Camp Trek in February?: Pros and Cons
Pros:
Less Crowded
February being an offseason, the trails leading up to the Everest Base Camp is essentially empty. You can enjoy the trek at your convenience and don't have to worry about other trekkers getting in your space.
In the peak seasons, the Everest Base Camp tends to get extremely crowded. The trails are covered with trekkers and your trekking pace is restrained by the people. Even the lodges and tea houses are mostly packed.
Therefore, February is a time for you to enjoy your trek.
Clear and Breathtaking Views
The view is brilliant on the trails of the Everest Base Camp. The February sky is clear, bright, and breathtaking. You can observe the mountain ranges without obstruction.
You will find that the cold and rough trek of February is worth it. The mountains along with the late-winter landscapes will take your breath away with their beauty.
Off-season Offers
Since February is considered an offseason, the lodges, and other necessities drop fairly in price. It becomes more affordable to trek this month.
For someone with a fixed budget, the month of February is fitting. You can get an attractive discount on the price of accommodation and other facilities.
Cons:
Sharp Weather
In February, you will experience subtle warmth during the day and chilly nights. As discussed above, the temperature can drop down to -16°C. Also, the weather is very unpredictable.
Therefore, extra preparation for the cold weather conditions and unpredictable weather changes is of utmost importance.
Recommended routes in February
If you are thinking of trekking in February, these are the best routes suitable for the end of winter in the Everest region.
Everest Panorama Trek
The Everest Panorama Trek is a 10-day trek. It is one of the easier routes to take in the brilliant view of mountain ranges. The highest point of the trek is Tengboche (3,873m).
Hence, you will be able to relish in the glory of Everest, Lhotse, Kwangde, Tawache, Nuptse, Ama Dablam, and Thamserku.
Everest Base Camp Trek
The Everest Base Camp Trek is a 15-day trek. It is the world's most popular trekking destination. The highest point of the trek is Everest Base Camp (5,364m).
Everest Base Camp Trek via Jiri
The Everest Base Camp Trek via Jiri is a 24-day trek. If you want to experience the winter wonders amidst the mountain ranges, this trek is for you.
You will cross high passes such as Deurali, Lamjura, and Trakshindo. Similarly, you will get views of additional peaks like Ganesh, Langtang Lirung, Dorje Lakpa, and much more.
Ultimate Luxury Everest Base Camp Trek
The Ultimate Luxury Everest Base Camp Trek is a 13-day trek. As the name suggests, you will be provided with the highest quality of services and accommodations. This includes a helicopter ride back from the Everest Base Camp.
Travel Tips for Everest Base Camp Trek in February
Although February treks are not difficult, there are various things that you need to consider to get the best experience.
Increase your diet intake
One of the most important aspects of trekking in the cold is to increase your dietary consumption. This is essential because your body will burn additional calories to cope with the cold.
You should consume food with high carbohydrates and protein. Also, make sure to not sleep on an empty stomach. Studies have found that this will also help you cope with altitude sickness.
Layer Up
Trekking in high altitudes in the winter can be quite tricky due to the temperature fluctuations. If you take only a down jacket with you, you will not be able to wear it in the daytime.
Make sure you pack insulated or warm clothing to layer on top of each other. This is a way for you to pack with ease and remain warm.
Do not travel alone/ hire a guide

Since you will be traveling in the offseason, you are not advised to travel alone. Always hire a local guide so that you can access the trail easily and not get lost.
The guide will also help you understand the cultures and traditions of the local Sherpa people.
Things you need to pack for the February Everest Base Camp Trek
Since you will be trekking during late winter, you should be ready to pack strategically. Make sure you pack insulated clothing.
The basic needs for your February trek are mentioned below:
A good quality sleeping bag
Fleece Wind-stopper Jacket (Waterproof)
Warm Down Jacket
Thermals
Warm Shirts
Trekking trousers
Trekking Poles
Snacks
Hot Water Bottle (with no leaks)
Woolen caps, scarf, and gloves
Insulating gloves
Sunscreen, sun hats, lip balms, and ski goggles
Hiking socks(warm)
Hiking Boots/ Waterproof trekking shoes
Rucksack Bag with a waterproof shell
Basic First Aid Kit (includes cough syrups and anti-cold medicines)
Guide Book with a Trail map
Toiletries (soap, shampoo, tissues, wet wipes, Moisturizers, sanitizers, toothbrush, toothpaste, etc.)
Events in February
The people that reside in the Everest region are primarily Sherpa and follow Tibetan Buddhism. They don't usually celebrate festivals the same as Hindu Nepalese individuals in Kathmandu and other regions.
However, February is a good month for festivals in Nepal, with Maha Shivaratri and Holi (the festival of spring) often celebrated in late February (and sometimes early March).
You probably won't get to experience these in the Everest region. However, if your trip to Nepal corresponds with these festivals, you will be able to enjoy them in Kathmandu before or after your trek.