Everest Base Camp Trek Cost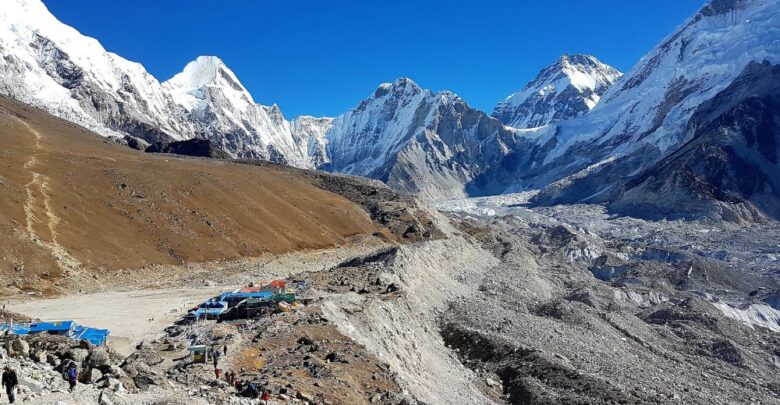 How much does the Everest base camp trek Cost?
The trek off your bucket list can be both a dream come true and a terrifying experience. Amigo Treks and Expeditions is here to make it easier for you. So don't be afraid to join us on this adventure!
Our most popular package is the Everest Base Camp Trek (15 days). It will cost you between USD900 and USD5000. And it is primarily determined by the service and the agency you select. The following are the most common factors that influence the cost of the Everest Base Camp trek:

common factors that influence the cost of the Everest Base Camp trek:
Accommodation types and standards: The accommodations on your Everest Base Camp package range from tea houses to luxury lodges. While in Kathmandu (the city area), you can choose from hostels to 5* hotels. However, because of the altitude, there are far fewer options on your trek (i.e. mountain area). Nonetheless, you will be provided with options ranging from tea houses to luxury lodges.
Aerial transportation costs: You will have to fly to and from Lukla while trekking to Everest Base Camp. There are two options for air travel: an airplane or a helicopter. The majority of the packages include an airplane flight. However, if the flight is canceled or delayed, you will have the option of extending your stay and flying the next day or flying with a helicopter (which is more expensive, but effective even in coarse weather conditions).
Cost of quality/experience of service crew and agency: On average, an Everest Base Camp tour guide will cost you USD30-USD150 per day. A porter will also cost you between USD25 and USD35 per day. If you are a beginner or have a lot of luggage, the service crew will be very helpful. As a result, the more experienced the crew, the higher the fee. The same is true for the agency. The higher their fee, the more experienced, and expertise they have. , it is best if you do not compromise on the service crew and agency as it will highly affect the quality of your trek.
The number of trekkers: Trekking is an activity that you would most likely want to do alone or with a partner. But, when you book your trek, it the more cost-effective. If you travel alone, you will most likely be put in another group anyway. Unless you book a private trek of course. So, gather your friends and make it a little less expensive.
Advance booking: Don't get us wrong, booking a year in advance will not get you anywhere. And you may end up paying the same amount of money as the other people booking their packages two months earlier. So, what do we mean by advance booking? Well, time is what makes the difference. Book your tour 30 days before departure and the cost might be 27% less than your last-minute booking.
Amigo Treks and Expeditions always want the best for our customers and try to provide the best opportunities for you. Therefore, there are possible extra costs that you should be aware of while you travel.
Additional costs During Everest Base Camp Trek:
Visa Fees: Travelling to Nepal as a tourist will cost you from USD30-USD100. For a 15-day visa, it costs USD30, for a 30-day visa it costs USD50, and for 90 days, it costs USD100.
Additional day (if applicable): We try our best to depart on the scheduled itinerary. But, we cannot secure or guarantee a fixed departure in the case of flight cancellation or delays due to weather inconsistencies. Thus, we facilitate our customers with a helicopter service if needed at extra cost. This is, of course, dependent on your choice. (Read more on Everest Base Camp Trek-15 days)
Charging electronics: If you carry electronic devices such as a camera and phone, it will cost you around USD2-USD5 each time. If you want to decrease this cost, make sure to carry a portable solar battery charger or a portable power bank with you.
Tips and donations: If you get satisfied with the trekking experience and the services provided to you by your guide or porter, make sure to leave a tip. It is a sign of gratitude towards them. Similarly, some of the monasteries, stupas, or gumbas have donation boxes. You can donate a small amount if you want.
As we pointed out above, the cost of the Everest Base Camp Trek is mostly affected by your service providers a.k.a. agencies. Amigo Treks and Expeditions aims for 100% transparency in every aspect of the package. Therefore, the following are the services we provide herewith.
Major Attractions in our Package: The package includes are crucial to know what you get from what you pay. The list of what the package includes is one of the main things that determine the pricing. Some of the included perks of our package are Oximeter, Sagarmatha National Park entrance permit, TIMS (Trekkers Security Card) Permit, and many more. You can view the entire package included in the article Everest Base Camp Trek-15 days. You should also be aware that not all agencies provide these benefits.
Agency Approach: While booking your package, be mindful of which agency you choose. Each agency has a unique approach. You should make sure that you are satisfied with the agency's approach and that it suits your requirements. The different approaches determine the variation in cost. Our agency has been functioning for a long time and we assure you that we will be able to assure your safety and satisfaction along with quality assurance.
Accommodation: Amigo Treks and Expeditions provides accommodation inside the Everest Base Camp trek package. On our best-selling package, we provide a 3-star standard accommodation facility in Kathmandu and standard lodges with 4 hot showers while on the trek. Some agencies don't provide these accommodations resulting in a less costly package. You should always make sure to go through the list that the package includes before booking your package. Thereafter, you will have fewer extra expenses.
Flexibility: An agency with flexibility is of the utmost importance. Our agency provides Helicopter flights when the assigned flight gets delayed or the flight is canceled. We also provide you the freedom to determine your departure time. We advise you to go through our guides to know more about us. And we are always ready to answer any and every query you might have.
Agency Reviews: We all know that actions speak louder than words. Agency reviews are the fruits of those actions. In other words, reviews are similar to branding for agencies. Amigo Treks and Expeditions has several reviews where you can view the fruits of our services. Know more about us from our customer's point of view.
Everest Base Camp trek cost for Nepali
The cost of an Everest Base Camp Trek for Nepali citizens can vary depending on the factors such as the duration of the trek, level of service, and time of year. However, generally, the cost of the trek for Nepali citizens is much lower than that for foreigners. Here is a rough estimate of the cost for Nepali citizens:
Permit and fees: Nepali citizens need to obtain a Sagarmatha National Park Permit and a TIMS (Trekkers' Information Management System) card which cost around NPR 100 and NPR 3,000 respectively.
Flights: Nepali citizens can get discounted flights to Lukla, which can cost around NPR 12,000 – NPR 20,000 depending on the time of year.
Accommodation: Tea houses along the trekking route can cost around NPR 1000 – NPR 3,000 per night depending on the level of comfort and services provided.
Food and drinks: Meals on the trek can cost around NPR 500 – NPR 1500 per meal, and bottled water and other drinks can cost around NPR 200 – NPR 500 each.
Guide and porter: Hiring a guide and/or a porter is recommended and can cost around NPR 2000 – NPR 3,500 per day for a guide and NPR 1,800 – NPR 3,000 per day for a porter.
All in all, the total cost of an Everest Base Camp Trek for Nepali citizens can range from NPR 60,000 – NPR 120,000 per person, depending on the level of service and comfort. Keep in mind that prices may fluctuate, and you may be able to negotiate prices with trekking companies or tea houses.
Hidden costs to consider for the Everest base camp trek
When planning an Everest Base Camp trek, it's important to keep in mind that there may be hidden costs beyond the obvious ones like permits and accommodations. Here are some other costs to consider:
Travel Insurance
Travel insurance is a must-have for any trekking adventure, especially in remote and rugged areas like the Everest region. Make sure your insurance covers medical emergencies, evacuation by helicopter if necessary, and trip cancellation or interruption. The cost of travel insurance can vary depending on your age, health, and the length of your trip, but it's typically around $100 to $400 for a two-week trek.
Vaccinations
Before traveling to Nepal, you may need to get vaccinations or boosters for diseases like typhoid, hepatitis A and B, and meningitis. The cost of vaccinations can vary but plan to spend at least $100 to $200 for the necessary shots.
Extra snacks and souvenirs
During your trek, you may want to purchase snacks, water, and souvenirs along the way. These costs can add up quickly, so it's a good idea to budget for them beforehand. Plan to spend at least $10 to $20 per day for extra expenses.
Tips and Gratuities
If you're trekking with a guide and porters, it's customary to tip them at the end of your trek. Plan to budget around $150 to $250 for tipping, depending on the length of your trek and the level of service provided.
Budgeting for Unexpected Costs
It's crucial to budget for unforeseen costs in advance to avoid being caught off guard by them. List all potential costs, both visible and invisible, and aim to overestimate rather than underestimate them. Setting aside money for a contingency fund is another way to plan for unforeseen expenses. You can keep an additional $300 to $500 on hand or in a separate bank account for emergencies. You can always use it for extra snacks or souvenirs at the end of your trek if you don't use it.
Finally, we would like to put forth the statement that all the decision is yours to make. Check with the agency for any queries and make sure you do your research. We wish our valued consumers a fulfilled and safe trekking experience.