11 Tips for Successful Everest Base Camp Trek [Updated]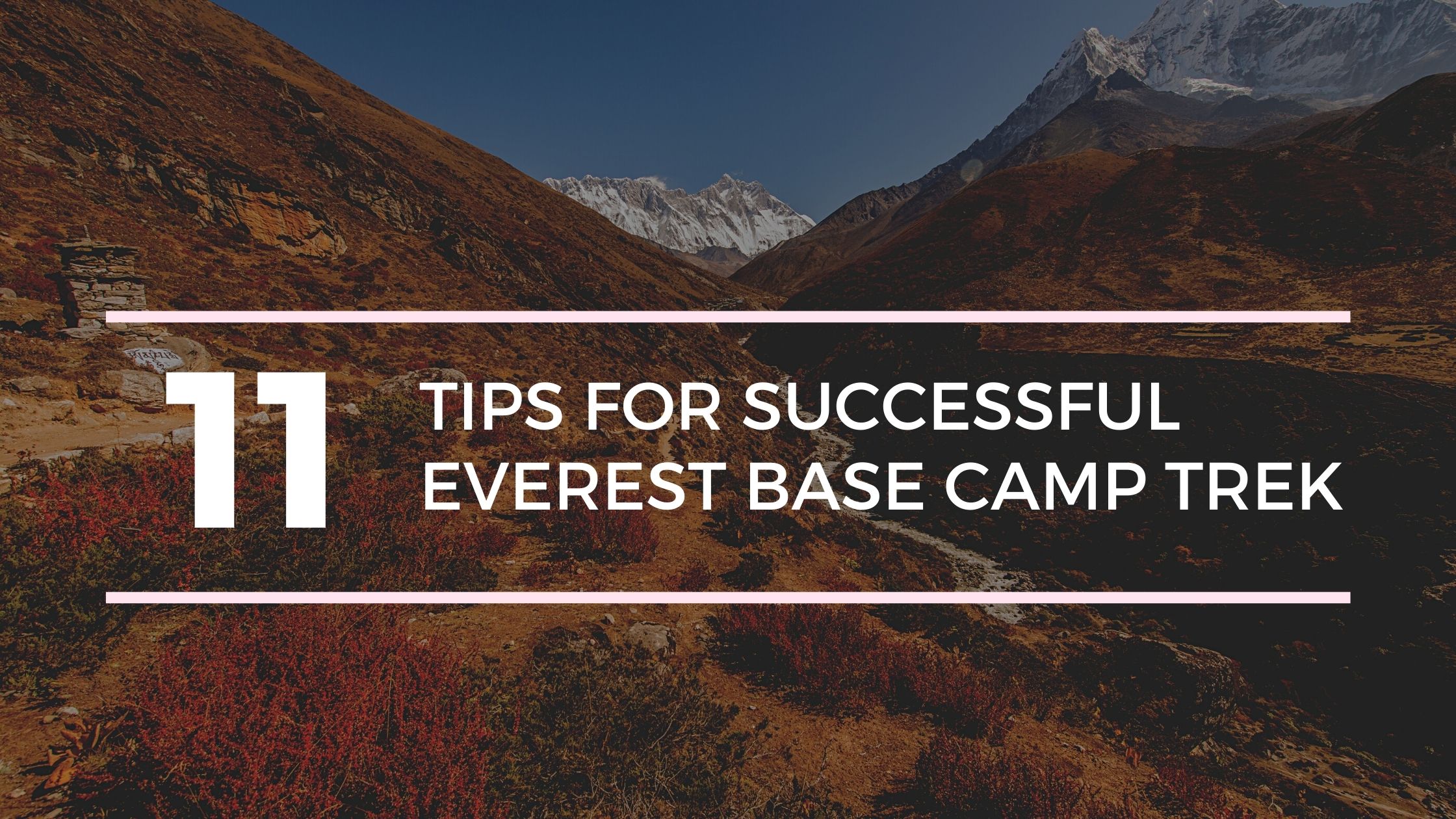 If you're an adventurer, you've probably always wanted to stand at the foot of the world's highest peak, Mount Everest. Before embarking on this adventure, you must be physically fit. If you have the stamina to walk for a few hours a day, this trip is ideal for you. Depending on the altitude, you will be walking for 4-6 hours per day. You should mentally prepare yourself for mountain life and the challenges you may face during the trek.
Learn about altitude sickness and how to prevent it: Altitude sickness may cause problems on your trek above 3000 meters, but it can also be fatal, so make sure you learn how to avoid it and how to prevent it.
Pack a nice pair of Trekking shoes: The most important tip is to bring a nice pair of trekking shoes that are comfortable and easy to walk in.
Buy gear in Kathmandu: In Kathmandu, there are plenty of shops where you can buy trekking equipment such as a stick, a down jacket, and a water bottle. Before departing for Lukla, purchase any necessary equipment in Kathmandu. However, trekking equipment is available at reasonable prices in Lukla and Namche.
Be prepared for cold and rain: Be prepared for cold weather at high altitudes. Even if it's a sunny day, bring some warm clothes with you. Carry a rain jacket to avoid getting drenched.
Drink plenty of water: To stay hydrated at higher altitudes, you must drink plenty of fluids or water.
Be slow and steady: Walk slowly and steadily, especially if you're going uphill, as you'll need the energy for a more difficult walk on another day. Slow walking is also an altitude sickness prevention technique.
Avoid Sun whenever possible: Make sure you have sunblock. At higher altitudes, sunburn is very common. Carry a pair of sunglasses with you, or buy one in Kathmandu. Purchase a cap or hat that makes you feel comfortable.
Plan some extra days: Because the flight to Lukla may be delayed due to weather, and it may take a few more days to complete your trek, please plan some extra days at the end of the trek rather than at the beginning of your stay in Nepal to ensure that you do not miss your flight back home.
Medicine and Health Check-up: Before beginning the trek to Everest Base Camp, it is always a good idea to get a thorough health check. It is preferable if you do it in your own country. Bring enough medications in case they are required. There is no pharmacy in Everest Region. It is recommended that you bring medicine for high altitude, tropical diseases, dysentery, cold, and fever with you.
Don't rely on the ATM at Namche Bazar: Carry enough cash with you when you leave Kathmandu for Lukla, as the ATM in Namche Bazar may not be operational.
Plan your Trek with an experienced Company: Trekking is hard work. It should be done carefully. You will be trekking in rural areas of the Himalayas, so it's better if you Trek through an experienced company that will arrange everything for you and takes care of you.